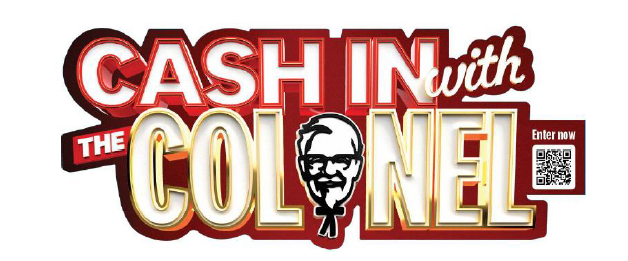 How do I get a unique code?
Make a purchase over $9.99 at KFC! This can be instore, or on our e-comm, click and collect and KFC delivery! Please note this excludes delivery aggregators such as UberEats. For every $9.99 spend at KFC, customers will receive a unique code on their receipt (this will be emailed to customers who purchase on KFC on e-comm and kiosk).

How many codes can I get?
The maximum amount of entries a customer can receive is 12 per transaction which will be consolidated in one single unique code.

Is the delivery service fee included towards the promotion?
Yes! Your total on delivery will be calculated and the number of entries you receive will be based on your total overall.

How do I enter?
To enter the daily prize draw, customers will then need to head to cash-in.kfc.co.nz, enter their unique code, and their contact details. Customers will need to be over 18 years of age.

When are the winners drawn?
Winners will be drawn every day at 12pm, and weekly winners will be drawn every Tuesday at 12pm. Lucky winners will be contacted via email address provided on the cash-in.kfc.co.nz website.

How long does the promotion run for?
The promotion runs from 7th November – 11th December 2023. Unique codes will no longer be valid after 11th December and no further prizes will be given out.

What are the prizes available?
Every week during the promotion period, one $20k cash prize will be available. There will be daily cash prizes of five $500 cash prize per day.